What have participants said about Cindi's class?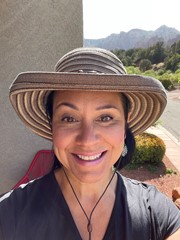 First Create Happiness classes having given me the quick, simple skills that I needed to turn negative feelings around to the positive. 
I literally use Cindi's "FLIP IT" technique on a daily basis and am now able to provide happiness for myself instead of being a victim of negativity.  The book is short and to the point with very enjoyable images that make the message easy to understand.  The happiness games that are offered in the newsletters provide reinforcement to insure that the happiness results are lasting.  Thank you Cindi for your commitment to spreading happiness!
—Juanita Segovia
---
I've really been withdrawn since the COVID stuff started, especially when it comes to "strangers". This helped me feel like my pre-pandemic self and filled me with enthusiasm and joy!
— Jayne R., Boise, ID class participant
---
It's a very powerful, enlightening and soulful experience. Cindi is a great instructor and she walks her talk.
— Mexico City class participant
---
Every session left me with a peaceful sensation!
— Mexico City class participant
---
In general it was great but the last part about forgiveness it was just INCREDIBLE!
— Mexico City class participant
---
I got a lot out of the class and have made some much needed changes in my life. For the better!
— Boise class participant
---
I would recommend this course because the material is powerful and the instructor is personable and knowledgeable.
— Boise class participant
---
I have already recommended this course to a couple of friends because it opened my eyes to what I want in my life. I want happiness and I want to create my own happiness. The tools and strategies you have shared with us have already impacted my life so much over the past 4 weeks! I can't wait to see where my life is in the next 4 months!
— Boise class participant